Invitation
We would like to invite you to the Traffic User Group Meeting (UGM) Nordics. We are looking forward welcoming you and hearing about innovative use cases and solutions related to our PTV Traffic software.
Furthermore, we will present the latest PTV product developments to you. Be our guest at the UGM and take the opportunity to have an exchange of ideas and solutions with experts and colleagues of the industry all throughout the entire Nordics.
Premliminary Program
Wednesday April 24th
Presentations will include the following:

COWI – Results of the PTV MaaS Modeller Oslo study
VTI - Traffic simulation of a shared space using PTV Vissim
NS (Dutch Railways) – TRENO, the transport model of NS (PTV Visum)
WSP - Challenges and possibilities when simulating bus terminals (PTV Vissim & PTV Viswalk)

Companies which will also be represented are Drive Sweden, Viatrafik and Chalmers University of Technology.
12:00 - 13:00
13:00 - 14:30
14:30 - 15:00
15:00 - 17:00
19:30
Registration
Presentations
Coffee Break
Presentations
Le Pub, Nordhemsgatan 22-24, 413 06 Göteborg
Thursday April 25th
09:00 - 10:30
10:30 - 11:00
11:00 - 12:30
12:30
Presentations
Coffee Break
Presentations
Closing Lunch
Call for Papers
In addition to the topics presented by PTV Group, the largest part of the UGM program is reserved for contributions from our users. As a user of our software you will have the opportunity to actively contribute to the program.
Are you currently working on an interesting and innovative project using PTV software? Would you like to share your best practise with other traffic planning experts? You are invited to present your project! Please submit an abstract of the project to info.nordics@ptvgroup.com adding 'User Group Meeting Nordics' in the subject line.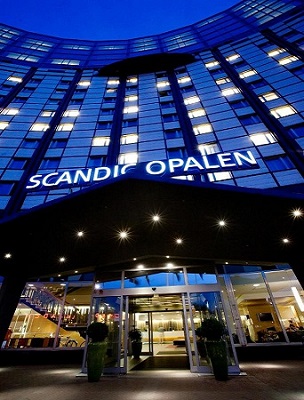 Venue
Scandic Opalen
Engelbrektsgatan 73
402 23 Göteborg

With a 15-minute walk from the Central Station, this venue is easily accessible from all parts of the city. Besides meeting facilities Scandic Opalen also harbours a hotel which will be happy to accommodate attendees of the UGM. A limited amount of rooms have been reserved for our guests. Please use the special code you will receive in the confirmation email to reserve one of these rooms. The accommodation fee is not included in the registration fee.
Registration
The participation at the UGM includes the following:

Participation at the UGM incl. information material
Snacks and drinks
Dinner on Wednesday April 24th 2019
Lunch on Thursday April 25th 2019
Fee: €100.00